SafetyNet® RMS
Believe it or not, some organizations still use paper records. Others employ cumbersome data entry procedures that yield little insight beyond the information that has been keyed in.
SafetyNet RMS represents a quantum leap in the way records are managed and analyzed and data is entered. By seamlessly integrating with the SafetyNet suite, SafetyNet RMS aggregates data from many sources, providing a rich set of features that goes far beyond the information contained in a single record.
This powerful solution enables you to perform crime analysis, providing a complete picture of the individuals, cases, vehicles, locations, and dates related to an incident. It also provides real-time access to records and data from participating regional agencies through the SafetyNet Automated Records Exchange (SNARE).

Compliance
SafetyNet RMS ensures records & reports meet local, state, & federal standards.

Comprehensive Records Management
Our solution simplifies how you manage everything from office supply and evidence inventories to personnel training records.

Easy Data Management
SafetyNet RMS's Master Person Index (MPI) and Master Vehicle Index (MVI) ensure data integrity and can be easily maintained and managed if incorrect or duplicate information makes its way into the system.

Query Criminal Records
With SafetyNet RMS, you can query the national, state, and local databases for criminal records relating to persons, boats and motor vehicles, guns and other articles.
Seamless Integration
Pulsiam offers the widest varieties of custom third-party interfaces in the industry. Alarms. ANPR, Panic Buttons. AVL. If you can think of a third-part solution that could enhance your system, we've probably developed an interface to it. And because we keep pace with the latest global technological developments, we are constantly creating new interfaces to meet your evolving needs. Maybe facial recognition wasn't a priority upon initial deployment of your system, but now you want integration with a top-tier VMS provider. Done.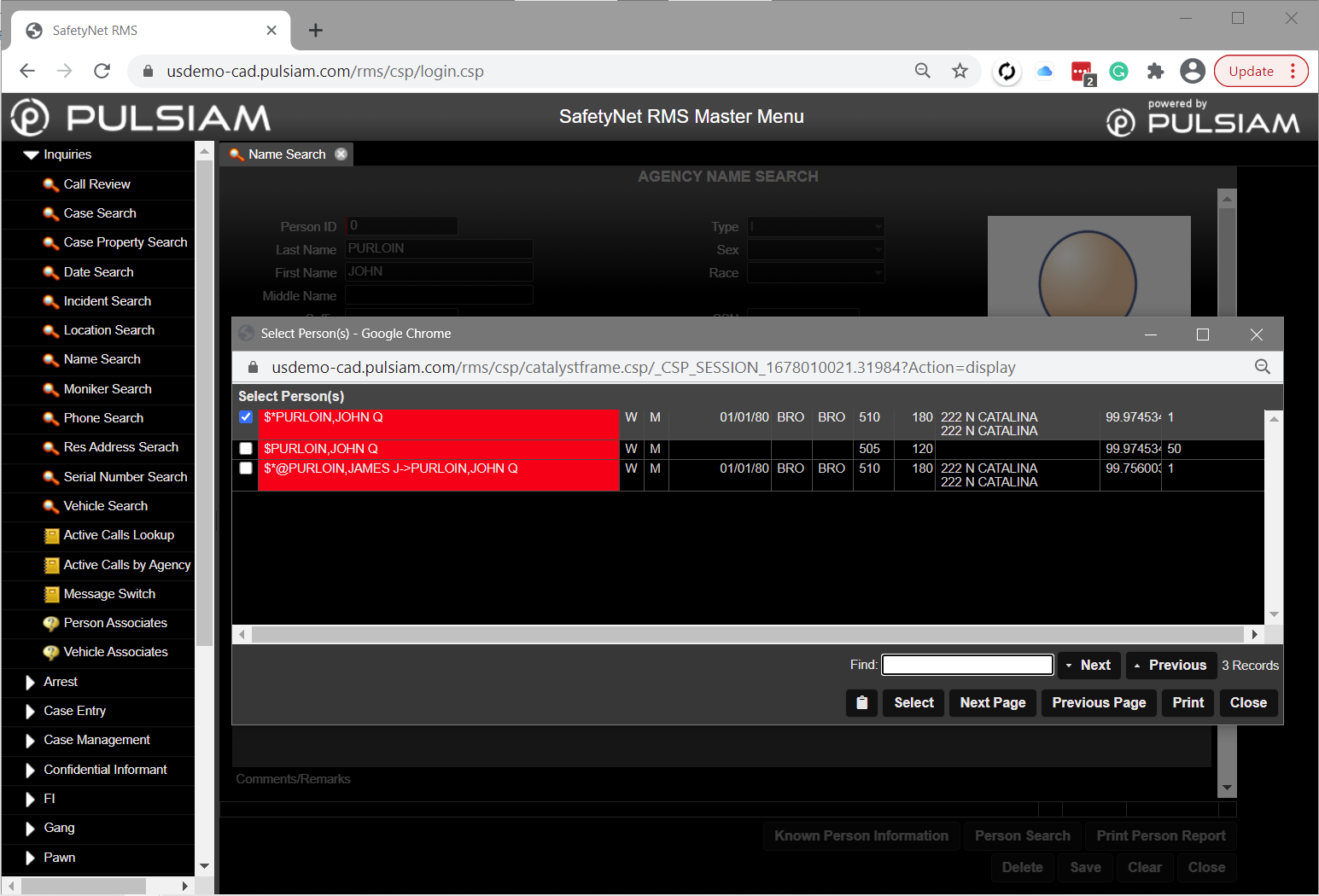 SafetyNet® System of Engagement
As longtime partners, Pulsiam and Esri have developed an architecture that integrates and leverages the power of each solution.
The SafetyNet System of Engagement provides data gathered from multiple data sources. This information is an invaluable asset for data analysts to detect trends, create dashboards, and redirect resources to areas where they are most needed.

"Though both the call center aspects of Esri integration and the analytics side work in parallel, there is no degradation of Esri call center performance while data is being analyzed. This provides agencies the best of both worlds: speedy mapping solutions during an event and the ability to analyze call center data in near real-time."
SafetyNet® Informer
SafetyNet Informer is the SafetyNet Suite's powerful, ad hoc reporting and business intelligence tool that you can access from your desktop, laptop, smartphone, or tablet. Browser-based and user-friendly, SafetyNet Informer gives you the ability to view data quickly and easily, so you can make data-driven decisions. Direct access to the SafetyNet database allows users to create comprehensive reports using extensive information from SafetyNet CAD, all SafetyNet Records solutions, and SafetyNet PCS.