SafetyNet® Property Control System
Streamline the process of tracking equipment and supplies.
Request a Demo
SafetyNet® PCS
SafetyNet Property Control System (PCS) streamlines the process of tracking equipment and supplies. Everything from office equipment (chairs, desks, computers, and monitors) to office supplies (pencils, pens, and notepads) can be tracked from acquisition to disposal.
With SafetyNet PCS, your organization can automatically order supplies when your inventory gets low, eliminating the need to take manual inventory or spend time on the phone placing orders. Precision is another benefit of SafetyNet PCS; the system knows how much to order and when.
For large equipment, such as generators or heating units, SafetyNet PCS tracks and updates regular maintenance schedules and contracts.
Streamline tracking your property and supplies

End-to-End Inventory Management
Full lifecycle tracking of equipment and supplies—from acquisition to disposal.

Log Inventory on the Go
SafetyNet PCS is browser-based, so you can log inventory using handheld devices such as tablets, mobile phones, and desktop/laptop computers.

Integration
SafetyNet PCS is tightly integrated with the SafetyNet Suite products, including SafetyNet RMS.

Compliance
SafetyNet PCS helps your organization comply with government regulations, contracts, and grants.
Seamless Integration
Pulsiam offers the widest variety of custom interfaces in the industry. Alarms. ANPR. Panic Buttons. AVL. Autonomous drones. If you can think of a third-part solution that could enhance your system, we've probably developed an interface to it. And because we keep pace with the latest global technological developments, we are constantly creating new interfaces to meet your evolving needs. Maybe facial recognition wasn't a priority upon initial deployment, but now you want integration with a top-tier VMS provider. Done.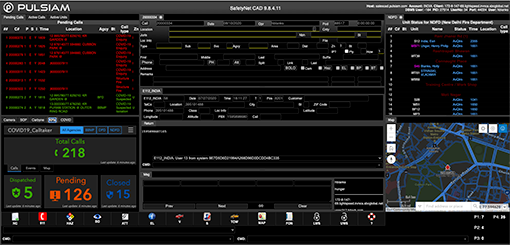 SafetyNet® System of Engagement
As longtime partners, Pulsiam and Esri have developed an architecture that integrates and leverages the power of each solution.
The SafetyNet System of Engagement provides data gathered from multiple data sources. This information is an invaluable asset for data analysts to detect trends, create dashboards, and redirect resources to areas where they are most needed.

"Though both the call center aspects of Esri integration and the analytics side work in parallel, there is no degradation of Esri call center performance while data is being analyzed. This provides agencies the best of both worlds: speedy mapping solutions during an event and the ability to analyze call center data in near real-time."
SafetyNet® Informer
SafetyNet Informer is the SafetyNet Suite's powerful, ad hoc reporting and business intelligence tool that you can access from your desktop, laptop, smartphone, or tablet. Browser-based and user-friendly, SafetyNet Informer gives you the ability to view data quickly and easily, so you can make data-driven decisions. Direct access to the SafetyNet database allows users to create comprehensive reports using extensive information from SafetyNet CAD, all SafetyNet Records solutions, and SafetyNet PCS.